Why choose us?

Speed
We control the production process throughout all its stages, therefore we can ensure that the production is manufactured in a very short time. Fast service on the spot — within one hour. The emergency team in the Baltic States — within 24 hours. In Europe — within 72 h. Call and arrange a visit at 29 620 679 or with your VIRTE Technology Consultant.

Quality
We use the materials and technologies of the best European manufacturers only. We offer a guarantee for our products from 2 to 15 years with the maximum service life of over 40 years

Technology
Butt-welding of up to 2 metres. Pipe mirror welding at slopes. PVC roof welding with a robot machine.

Unique solutions
Imagine something impossible and we will find a unique solution for you. A team of engineers and technologists is at your disposal.
Our company over 10 years of existence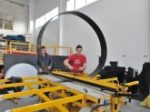 Over eight years of operations, the company has earned the trust of international partners and clients, has increased export of its production to Europe, America, Russia. From a small, private, five-person company we have grown into a stable partner for Latvian and foreign companies, but we do not stop here — we are learning new technologies and are on the move every day so that we can grow together with our clients and exceed their expectations.
Find out more
---