BIOLOGICAL WASTEWATER TREATMENT PLANTS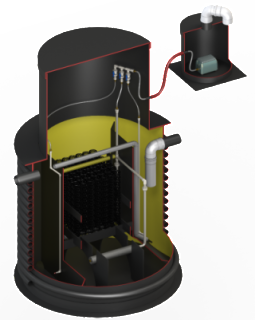 Biological treatment plants are sewage treatment plants for private houses, guest houses, villages, various industrial facilities and food processing companies. We produce sewage treatment plants according to EN12566-3.
BIOLOGICAL WASTEWATER TREATMENT PLANTS UP TO 50 PEOPLE EQUIVALENT
Biological treatment plant is chamber treatment plant with sedimentation, aeration, nitrification and denitrification
zones. According to applications facility can be equipped with mixers, degassing devices, lime dispensers, automatic
control and other equipment.
Operating Principles. Top – choice facilities are relatively simple and reliable. They do not need
maintenance and service contract due to higher plant capacity, reliable and durable UK compressors and German biological
units.
Installation. Installation of each unit can slightly differ, so don't hesitate to contact our
consultant for advice, or download a standard installation scheme. If you want to get full service with the
installation, "VIRTE Tehnoloģijas" is certified for pipe and sewer construction works, or will recommend one of partners
throughout the Latvian, Scandinavia, Russia. Ask our consultant for free manual of sewer septic tank installation.
Operation and maintenance. Facility has no specific requirements for operation and maintenance.
Equipment does not emit odor, it is relatively quiet and very long-lasting, without requiring major operating costs.
Under normal circumstances, only need of a small power consumption and remove of periodic developed mud, what can be
realized by sewerage service company. If you'd like us to recommend You for the nearest service providers, contact us.
*Your assistant to find right solution – private houses, guest houses – tel. +37129620679, e-mail: [email protected]
**Your assistant to find right solution – villages, industrial facilities, the creation of high objects and food
processors -consultant Raitis Dambergs – tel. +37128393444, e-mail: [email protected]
The correct choice of sewage treatment plant, according to the number of users or applications:
| | | | | | | | |
| --- | --- | --- | --- | --- | --- | --- | --- |
| Model | Number of people | Volume m3/day | Tank diameter, m | Tank lengths, m | Water level, m | Volume, m3 | Blower model, el. consumpt. W |
| BioVRT-3N | 2-4 | 0,6 | 1265 | 2000 | 1200 | 1,5 | ET80, 60 W |
| BioVRT-4 | 3-5 | 0,8 | 1500 | 1900 | 1100 | 1,9 | ET80, 60W |
| BioVRT-5N | 4-6 | 1 | 1500 | 2000 | 1200 | 2,1 | ET80, 60 W |
| BioVRT-6 * | 5-8 | 1,2 | 1500 | 2100 | 1300 | 2,3 | ET80, 60 W |
| BioVRT-7N | 6-9 | 1,6 | 1700 | 2200 | 1400 | 3,2 | ET120, 90 W |
| BioVRT-8 | 7-12 | 1,8 | 1500 | 2100 | 1260 | 3,5 | ET120, 90 W |
| BioVRT-16 | 13-20 | 3,2 | 1500 | 3000 | 1260 | 4,8 | ET200, 186 W |
| BioVRT-24 | 21-27 | 4,00 | 1500 | 4500 | 1260 | 7,5 | ET200x2, 372 W |
| BioVRT-30 | 28-40 | 6,00 | 1500 | 6000 | 1200 | 9 | 558 W |
| BioVRT-50 | 41-60 | 11,00 | 1500 | 9000 | 1200 | 14 | 1100 W |
* from 01.05.2022 is not available for order
We produce large-scale biological wastewater treatment plants, according to the customer's project, consultation and
ordering by contacting a specialist:
– info – tel. +371 29620679, [email protected]
– Matīss Lācis – tel. +371 28374336, e-pasts: [email protected]