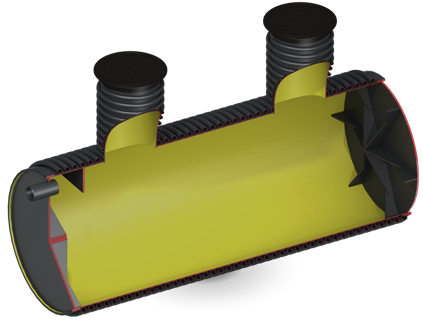 Durable
Any volume
Filling level alarm
Regulations are not applied on volume of reservoirs, so we recommend to choose it by number of users and container sizes available at service provider. We do not recommend you to choose a reservoir that exceeds the volume of service providers container for more than 40%. It is better to choose a smaller size sewage tank with a full-scale alarm (as an option). There's an option to order multiple levels of alarm that is triggered at levels of 50%; 70% and 90%.
We recommend to be careful choosing sewage tank's strength – by installation conditions, is it green area, carriageway, pavement, etc.
Installation
Installation of each unit can slightly differ, so don't hesitate to contact our consultant for advice, or to get a standard installation scheme. If you want to get the full service with the installation, "VIRTE Tehnoloģijas" is certified for pipe and sewer construction works, or will recommend one of our partners throughout the Latvian, Scandinavia, Russia. Ask for free manual of tank installation.
Operation and maintenance
Facility has no specific requirements for operation and maintenance, it does not emit odor, it is long-lasting. Emptying can be realized by any sewarage service company. If you'd like us to recommend You for the nearest service providers, contact our concultant