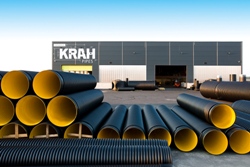 Diameters 300mm -3000mm
Proper calculation  of strength
In everything are fit for purpose
Top quality product
Pipes. Diameters from Dn 300 to Dn 3000 (mm)

PE (polyethylene) and PP (polypropylene) pipes diameter from 30 cm to 3 meters.
Pipe welding with hand extruder, butt welding machine or electrofusion joints.
Production of bends, smooth core elbows of any angle, flanges and wells.
We provide pipe and finished product's strength calculations according to installation conditions and other applications:
underground reservoirs – according to soil composition, installation conditions and groundwater impact,
surface reservoirs – UV resistance, strength calculations.
Pipes are suitable for food, fire or chemical environment.